Having seen all the details about how I perform measures with my equipment, let's see how do I run a complete audio test of a walkman.
Adjusting the maximum output without clipping
The first step is to check the maximum output power and see if it shows clipping. Before doing that, I carefully clean the rollers and the head using isoprophilic alcohol.

So I set the volume to max and play a 1kHz signal recorded at 0dB on an UX Pro tape, and here is the result, where you can see some clipping: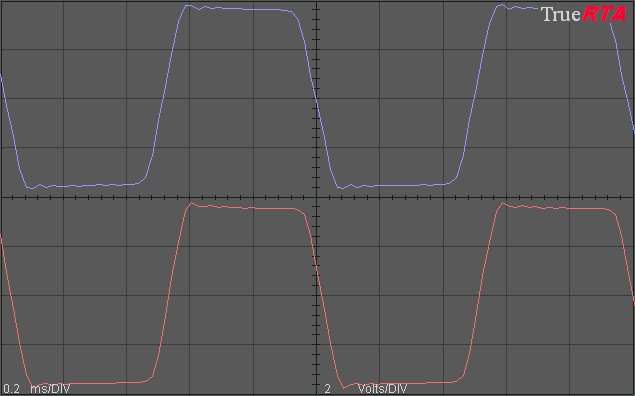 When playing a 1kHz signal at maximum volume, the result shows strong clipping.
Left channel is blue, red is right.
So the 2nd step is to search for the highest volume that doesn't suffer from clipping. In this case this happen setting the volume to 7: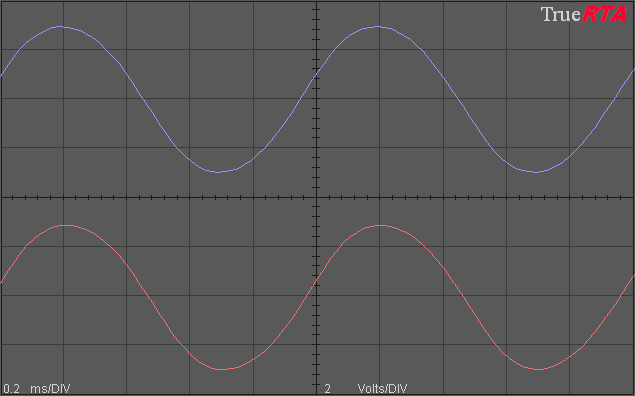 At volume 7, the result is a perfect signal, but it doesn't arrive to the necessary output level.
So then I connect the CMoy amp to the headphone output and adjust it so it arrives at 2800mV, the proper level for measuring: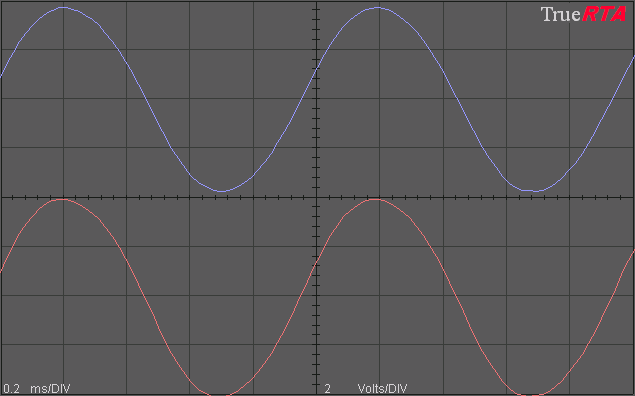 Now all is ready to measuring.
Whenever possible, I adjust the azimuth so both channels are in phase, as seen here.
Frecuency response curve
Now I use TrueRTA to measure the frequency response curve (FRC). To measure it I play pink noise recorded in an excellent SONY UX Pro tape. The final graph is achieved by averaging 100 measures. The ideal FRC should be completely plain.

Let's see how does it performs a nice AIWA HS-G08: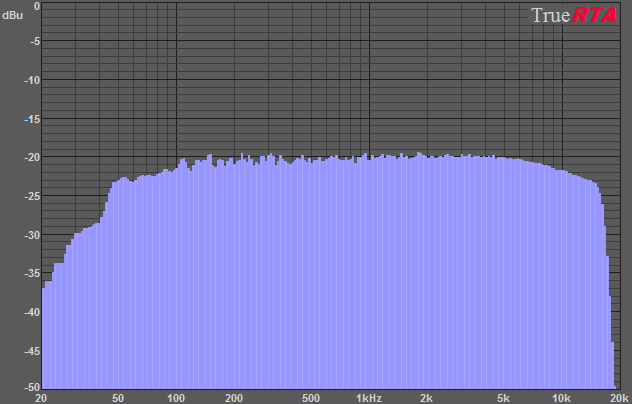 where we can see that it's not bad, but suffers from a lack of bass under 100Hz and there's a slight loss of highs from 5kHz and above.
Effect of the bass enhancing system
Many modern walkmans feature a very important function: a dynamic bass enhancing system This system amplifies only the bass, but not like an EQ. Knowing that the human hearing system has few sensitivity to the lower frequencies, this system works by the more lower the volume, the higher the effect. That's why I test it at two volume position: at 1/2 and 1/4 (I mean: at volume "5" and "2.5").
Let's see a real example: the legendary AIWA HS-PX303, which has probably the best bass enhancing system. This model has two efects: L (Low) and H (High), and two positions: 1 and 2. So I test all them at 1/2 and 1/4 (volume normalized with my CMoy amplifier to help comparing graphs):
Very interestingly, they are quite similar, except H1 which differs slightly at different volumes.