A BRIEF DESCRIPTION

Although I haven't seen many Pioneer devices in my life (very few, actually), I must admit that the more I know about them, the more I realize that they made really serious stuff. Their silver A/V receivers were truly world class, with the SX1980 on the throne and still considered one of the best ever made.

The F1250 is a truly serious deck which offers outstanding performance and a bunch of features that are rarely seen in other decks. Also it is probably the most extraordinary silver deck ever made and with such a performance that, even 15 years later, 90% of the decks of all manufacturers didn't reach.

Today it is hard to find one of these decks and, when one is for sale, it often goes for high prices. However, as it's a very old deck, it will require a full service as it probably has more than one issue. Apart from the fact that the heads could likely be worn (and that's hard to fix). Only the best technicians can fix that issue. Remember that with a worn head, it's useless to go through a full service because, in the end, the frequency response won't be good.

I'm lucky that mine has been restored by ANT Audio with new rollers and a deep upgrading process to get a brand new ALPS head, extensive modification to make this head fit with the electronics as well as other modifications (like the meter scale that isn't Philips scale anymore, but the Nakamichi scale, with the Dolby mark at 0dB mark).

CONTEXT

The CT-F1250 was the top model back in '79 as a sucessor of the well renowned CT-F1000 and also a predecessor of the legendary CT-A1. Pioneer gave the engineers freedom to condense all the knowledge they had to make the best they can. And they did a landmark in the deck history.

At a time when almost all decks had 2-heads and single capstan configuration, the F1250 came to beat them all, with 3 heads and closed loop dual capstan, with quartz locked direct drive. Also the head was a new Uni-crystal (and not a standard Ferrite or Sendust alloy head) that offer better resistance to wear.

This deck is one of the latest that were very big in size and weight. Later decks were thinner, much lighter and had more advanced features, although probably less reliable...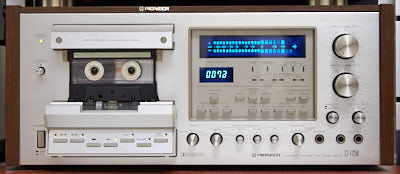 I remember I've read a commercial where Pioneer put their '78 flagship F1000 (which was predecessor of the F1250) against the best Nakamichi, stating that the F1000 sounds equal but at a fraction of the price. So it's clear that they aimed to the best of the best. And many people remember their silver line to be one of the best, ever.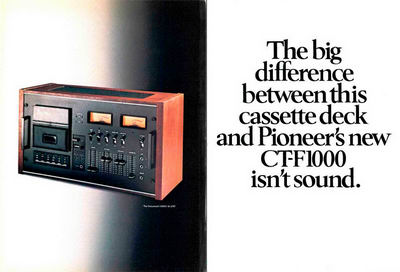 One of the most courageous deck advert I've ever seen is this one. page 1.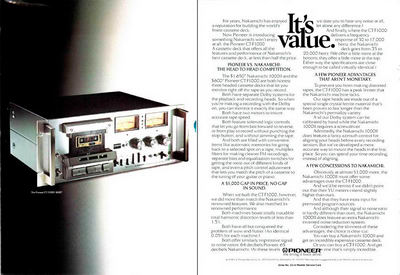 TARGET CUSTOMER & BUILD QUALITY
As a top model, the F1250 was clearly aimed to the most exigent customers. Its build quality is completely from another era. The thick front metal face is glorious and all the knobs and buttons are made from metal. Brushed metal. Something that is hard to find in today's gear.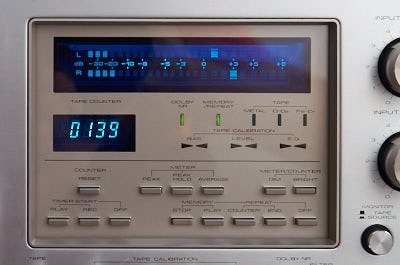 The famous blue fluoroscreen and a big bunch of buttons.
All buttons are sturdy and all in all it's a pleasure to work with. The calibration knobs are extremely well made. The blue fluorscreen is glorious and one of the most recognizable part of Pioneer's entire silver line from those years.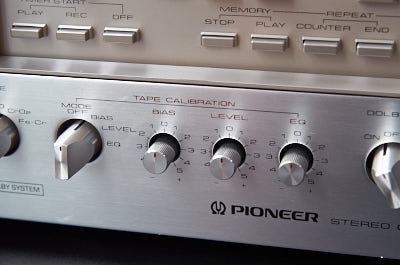 The F1250 features a 3-channel calibration system (the best available), with: bias, level and EQ.