Starting with an interesting post on stere2go forums titled "my life in walkmans" I wanted to show mines, so I'll try to do a quick overview about the walkmans of my life. As you will see, I won't limite myself to tape players...

I first saw a walkman about 1984, more or less, when I was 13 years old. About 1985 I was given a "brand-less" walkman that had very low quality. I think it was "brandless", and I do not keep it, so I'll start with my first decent player: a SONY.
Some time later (I believe about 1986) I managed to save enough money to buy my first decent walkman: the Sony WM-34, that I chosed because of its dolby system:
My first walkman: the SONY WM-34.
Side view.
Upper view.
I was pleased with it, specially with the great quality improvement over my previous non-brand one. The dolby system worked as expected. But I felt the sound simply... plain.

I often listened to tapes, radio and LPs on my dad's HIFI, a Technics. I loved so much the bass and treble manual EQ, and the Loudness switch, some sort of bass amplification. Because of that, and the lack of any sound EQ on this WM-34 I felt the sound so plain.

But things gonna change completely soon... on 1988 I saved enough money to buy THE walkman of my life, undoubtely, the one that has been with me for so much time and gave me so pleasure listening: the WM-B39.
The WM-39, one of the first walkmans with MegaBass.
Side view.
Upper view.
Actually my WM-39 is in not so good condition, but still decent. I managed to find a brand new one. What you see here is my real one, not the mint one I bought recently.
The WM-39 boxed. And now it's carefully saved for the future.
I also managed to find another versions that I didn't even know they were released, like this one in beautiful blue.
This is one of the very first walkmans with MegaBass. The very first generation of the revolutionary bass system. It also has something that after that almost no mid or top-level player had: a simple two-way parametric equalization.
This walkman had everything I was dreaming for: auto-reverse, dolby, a good response (for me at the time, 40-15.000Hz) and the ground-breaking MegaBass. Also, it was supplied with the new 'turbo' headphones.
I still remember the day I bought it at "El Corte Ingles" spanish super store in Madrid as if it was yesterday. I paid about 11.000 pesetas (the spaniard money at those years) and couldn't wait to come back home to put batteries and a tape. And when I did, I remember perfectly when I turned the yellow switch on... It was like a train passes over myself. I was SO SHOCKED THAT I COULDN'T BELIEVE IT. I think that there were a few moments in my life where I was so shocked, and this one was one of them.
Oh, this B39 player is so special to me! It was with me in so many moments, giving me music with so high quality, with it's 2-band equalizer that sounds so good! What a nostalgia... Some time later I sold it to my sister (and she kindly gave me back as a gift a recently).

Some time passed and I focused in upgrading to a new walkman with recording functions... and the AIWA HS-J170 was my target: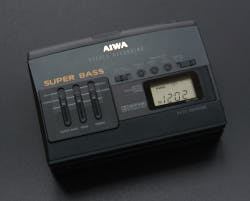 The AIWA HS-J170
In fact I was very dissapointed with this model. In the catalog looked great, but it was made of lower quality than I expected. Not only the building quality, but also the sound (the Superbass is terrific) and the recording quality is simply a crap.
I don't know where is actually my walkman, but I recently found one at eBay...
Control buttons.
Side buttons.
Back view.
Some time later I upgraded to a WM-FX43, specially for the digital radio, but even that this player was more advanced, I found it a bit fragile and I missed so much the 2-band EQ from my loved B39. Definitely I didn't like this player the same as the previous.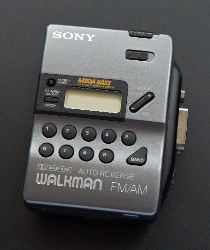 The SONY WM-FX43
Upper view.
Original box.
Back view.
A few years later I bought a second hand SONY WM-EX59 that took me to the era where players were so small and had feather-touch buttons:
The SONY WM-EX59.
Side view.
Back view.
A good player that sounds good also, but didn't had the personality that the wonderful B39 had. For the first time I could wear it in the front pocket of my pants without looking tacky ;-)

At that time, Discmans were rocking, but I started to focus on the brand new Minidisc, and I bought the fantastic Sharp MS-702H:
The SHARP MS-702H, a wonderful minidisc player. It has many advanced features, surpassing any model from SONY at the time.
Back view.
This little player sounds like heaven. Really. Not so many players can match the quality and power of this little unit.

Oh, how many good recordings and moments gave this little, shiny player... Recently I knew that this player is still very valuable and rare. Mine is in mint condition yet and fully working. Those years I made a growing collection of so many minidiscs, recording from CD players with optical cable. I still keep all my minidiscs.