And then MP3 era came. In 2000 many people were buying those low-quality CD-mp3 players from brands like Verbatim. I learned enough about how to make good quality compressed music (like using more than 128kbps in VBR mode using compressors like LAME) and bought my first MP3 player: the remarcable Creative D.A.P. Jukebox, almost the first hard disk-based player (before the iPod appeared).
Its design is very remarcable, and it's permanently showed at the London Design museum.
The Creative D.A.P. Jukebox, one of the first HDD MP3 players.
Back view.
This player has the same size as a big Discman, but have a 6GB hard disk and an excellent Soundblaster Live! inside, with all its equalization possibilities and even environmental processing, that it's still incredible. I don't know about any modern player that has such sound processing power like this one. Even that the MP3 decoder and the internal sound card has a very high quality, the sound was plain, and the equalization, poor for my taste.

It was a bit big, and battery lasts only a few hours but open a new world, allowing me to wear so many discs in one player. I remember wearing this player while travelling in the metro or walking in the street and look others with their discmans and walkmans and think that they were in the prehistoria... and nowadays here I am collecting walkmans...

A few time later I upgraded to the even better Jukebox 3, almost the same player but with better sound (up to 98dB of S/N), 20GB hard drive and better battery life:
The Creative Jukebox 3, with many improvements over the first version.
Back view.
Both the original Jukebox and the third version.
Which was smaller, had more capacity and have for the first time FireWire connection, which let me copy so many complete discs in record time. Remember that Firewire allows a bitrate up to 30MB/s while USB 1, only 1.2 MB/s (in practice). That is thirty times faster!

Then I tried the very small MuVo2, but the sound was plain and unpleasant: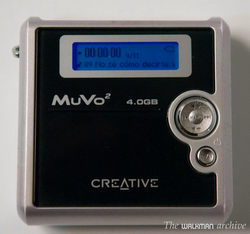 and I sold it quickly.

Then I changed to the fantastic Rio Karma, a small player that still has many advanced features that modern players doesn't have, like cross-fading, a charging base with ethernet port or a programmable equalizer, as well an internal database.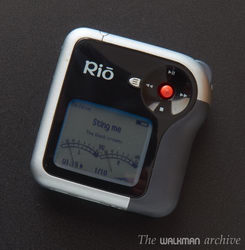 Then I changed to the incredible, award-winning, and one of the most respected mp3 players on audiophile circles: the small but powerful Cowon D2: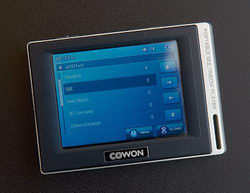 Don't you see anything fimilar here?... Yes, the famous BBE system present in many high level AIWAs...
This little player really sounds so good! Like a good discman, and has many equalization possibilities: BBE, megabass, 5-band eq, surround, even and MP3 restoration system. If you have a pair of really good headphones you can be simply blow-out by it. It even has power up to 50mW.

Nowadays I use the sucessor of the D2, which is the C2. It features many of the features of the D2, with some interesting aditions: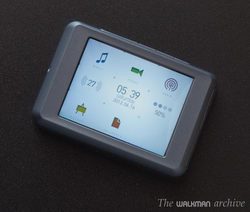 So if I had to put the most important players in my life in one photo it goes like this:
My life in walkmans.
Can't wait to see what others tell about their players... Long life to music and players!