PROS & CONS
| PROS | CONS |
| --- | --- |
| Good, stable transport. | Meter resolution not as good at Dolby mark. |
| Excellent build quality. | No fader. |
| Laser-amorphous heads. | No output knob. |
| Excellent calibration system and controls. | |
| Independient balance knob | |
| Big, detailed, display. | |
| Real time counter and peak meters. | |
| Headphone volume knob. | |
| Superb design. | |
| Excellent sound quality. | |
So, after I took a listen to my reference recording (already explained here) I combined all data into a single graphic, to let you quickly see all its scores :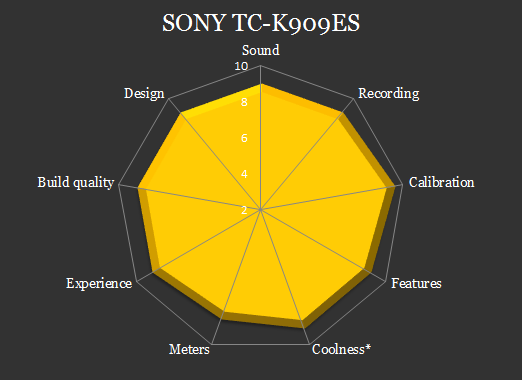 AIWA HS-G08 final rating.
So, the SONY TC-K909ES is a very recommendable deck, one of the top-of-the-tops indeed. While not the absolute very best in terms of audio quality, it scores high enough to be considered between the top 20 of all time and probably between the top 10 too.
Considering all its features and design I'd put it on my top 5.